employABILITY Expo - Wednesday, Oct. 5, 2016

Join us at the 6th Annual employABILITY EXPO on, Wednesday, October 5, 2016, at the Victoria Inn Hotel & Convention Centre!

READ MORE
Food Handler Certification

MTEC is now an authorized contractor to deliver Manitoba Health's approved Food Handler Certification Program and administer the provincial exam.

READ MORE
Upcoming Training
Networking, The Power of Connected People
Friday, September 30, 2016
This three hour training course was created to provide you with an understanding of how to work with...READ MORE
3-Part Training Series for Event Coordinators and Planners- Introduction, Overview and Administrative Skills
Friday, September 30, 2016
Learning objectives for today: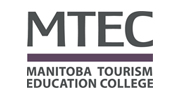 The
Manitoba Tourism Education College
trains people for positions in the tourism, hospitality and retail industries in Manitoba. The programs are six to eight weeks, plus a 30 hour practicum. Potential employees will be matched to employers in their field of interest, with the goal of future employment.