Job Board
Employers
This Job Board is provided as a complimentary recruitment tool for the Hospitality, Tourism and Retail industries in Manitoba. To post jobs visit: http://www.mtec.mb.ca/register-employer.asp and complete the Employer Registration form.
Job Seekers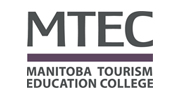 If you're looking for an edge to jump start your career in the tourism industry, check out the 6-8 week training programs offered by the Manitoba Training and Education Centre.
Sign up to receive our news (top right corner) to receive our News and Job Fair updates!
Find Positions Available:
TITLE OF POSITION
BUSINESS
DATE POSTED
CITY
VIEW
Early Morning Baker
The Crusty Bun Inc.
8/4/2015
Winnipeg
Housekeeper
Super 8 Portage la Prairie
7/29/2015
Portage la Prairie
Front Desk Agent
Super 8 Portage la Prairie
7/29/2015
Portage la Prairie
Travel Specialist/Consultant
Travel Quest
7/28/2015
Portage la Prairie, MB
Houseman
Elkhorn Resort Spa & Conference Centre
7/23/2015
Onanole
Sales Manager - Corporate Sector
Fairmont Winnipeg
7/23/2015
Winnipeg
Bartender
Elkhorn Resort Spa & Conference Centre
7/23/2015
Onanole
Servers
Elkhorn Resort Spa & Conference Centre
7/23/2015
Onanole
Front Desk
Inn At The Forks
7/21/2015
Winnipeg
Retail Assistant Manager
Bootlegger
7/16/2015
Brandon
MTEC Hospitality, Tourism, and Retail Job Fair
Various Employers
7/15/2015
Winnipeg
Tavern United Bartender
Canad Inns Destination Centre Transcona
7/14/2015
Winnipeg
Hotel General Manager
ALT Hotel- Winnipeg
7/14/2015
Winnipeg
Hotel Sales Manager
ALT Hotel- Winnipeg
7/14/2015
Winnipeg
Inside Sales Associate
SkipTheDishes.com
7/9/2015
Winnipeg