Sled Friendly Certification Training
Snowmobile tourism is a catalyst for winter economic growth

GOAL:
The goal of the Sled Friendly Certification Training is to increase awareness of what makes a sled friendly community & business and the steps that can be taken to be certified as Sled Friendly.
The Sled Friendly Community Certification will show visitors you have made a commitment to providing a safe and accommodating destination for snowmobilers.
The Sled Friendly Business Certification will show potential customers/guests that your business has made the commitment to provide inviting, accommodating and safe services to snowmobilers. This includes everything from providing a secure place to store their sleds to having a welcoming staff that are aware of the complementary businesses and attractions in your region.

WHY TAKE THE TRAINING?
The Sled Friendly Certification Training will help businesses, communities and individuals understand the significance of safety, community involvement and taking on a tourism focus for this unique target market.
The purpose of this training is not to replace existing laws, policies or procedures as it relates to snowmobile tourism, but to enhance it.
NOTE: The Sled Friendly Certification Training is FREE for communities and businesses North of 53 (North of the 53rd Parallel in Manitoba).
---
Click here to register your Community or Business

---


Congratulations to these Sled Friendly Certified Businesses!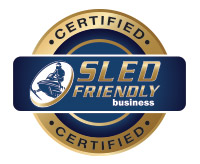 Bakers Narrows Lodge, Flin Flon
Inter Tribal Services Inc., Thompson
Paint Lake Lodge, Paint Lake
Sasagiu Rapids Lodge, Thompson
Snow Lake Motor Inn, Snow Lake
Watchi Bay Enterprises, The Pas