Handling Difficult Situations and When You Shouldn't ...

Handling Difficult Situations and When You Shouldn't ...
Empowers Manitoba Businesses with Education to Navigate Difficult and Potentially Dangerous Situations
This course was developed by MTEC In response to the increase in crime impacting the hospitality and tourism industry in Manitoba. This online training provides insight into how to effectively manage complex situations and understand when to get help by calling 911.
This updated version of Handling Difficult Situations is an online course that takes approximately 75 minutes and is ideal for front-line employees, supervisors and managers in an engaging format.
The content was developed in collaboration with an experienced tourism and hospitality safety consultant, a representative from the Community Services Division of the Winnipeg Police Service, and proficient training specialists. Video content includes a discussion of current criminal activity in Manitoba, guidance on identifying situations warranting police intervention, and measures businesses can implement to safeguard their personnel and assets during challenging scenarios.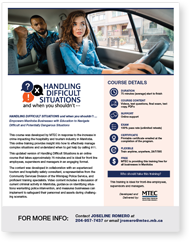 CLICK HERE or on the image to download the program flyer

How to Register for this Online Training
Tourism, Hospitality and Retail businesses can now create a free business training account giving them access to this new online training course. When your account is approved you can request access codes for each employee who you want to take the Handling Difficult Situations and When You Shouldn't ... program.
All accounts are reviewed by an MTEC Coordinator. Only businesses in the tourism, hospitality and retail sector, training employees in Manitoba are eligible.
Get started today by clicking the I Want a Business Account button below.
---